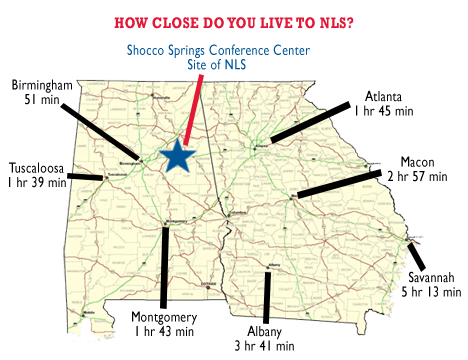 National Leadership Seminar
by Austin Dowd
We have a fantastic opportunity for members of Section SR-9 to meet new brothers and learn one-of-a-kind leadership skills at an upcoming NLS course inside our geographic area. NLS stands for National Leadership Seminar and is hosted by experienced Order of the Arrow members from all over the country including current national officers. It is a great weekend full of sessions to help form the next leaders of our Order. The NLS course is November 11-13 in Talladega, Alabama. For those unfamiliar with Talladega, it is halfway between Birmingham and Atlanta along Interstate 20. This will be the first NLS Course inside SR-9 since 2009 and the next course this close will not be until spring of 2018. NLS is encouraged for all lodge and chapter leadership to attend and help better their local program.
Section SR-9 is offering a grant program for youth members to attend. We will cover half of the cost for thirty Arrowmen, but hurry because spots are being claimed quickly. In addition, your lodge may have scholarship funds available. Notify your Lodge Adviser that you are interested in attending, and he can assist you in receiving the Section SR-9 Grant.
The registration deadline is October 28 but do not delay because spots fill quickly. Go to http://southern.oa-bsa.org/nls for more information and to register.