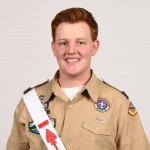 The section communications team sat down with SR-9 Section Chief Patrick Mapp and asked him a few questions about the section and his time as a section officer. Patrick is an Eagle Scout from Flint River Council and Vigil Honor member of the Ini-To Lodge. During his tenure as SR-9 Section Chief, he has represented our members well serving as the 2016 NEXT Conference Experience Vice Chief and the 2017 Jamboree OA Service Corps Vice Chief.
This is your fourth year as a section officer. What inspires you to continue serving the Order of the Arrow and its members?
Five months after my induction into the Order my lodge adviser invited me to the National Leadership Seminar. Little did I know that this seminar would change my outlook on servant leadership as well as my life. The values I have learned in the Order of the Arrow have inspired me to serve, lead, and commit myself to a life of cheerful service. When I was elected section secretary in 2013, I realized that I had become a part of something bigger than myself. As section secretary, I had the opportunity to visit many of the lodges of SR-9, and in doing so I interacted with you, the foundation of our organization. These experiences of interacting with all the members and exchanging ideas have inspired me to continue serving today.
Indian Winter is a much different event than the Heartland Gathering. What types of program are offered at this event that all Arrowmen can enjoy?
In 2014, I was elected to the office of Section Vice Chief, with a task to create a new innovative event for our section centered around American Indian Affairs. This task would present many challenges, but with the advice of our advisers and a lot of hard work, a new program is now in its third year. Our section has a grown in AIA and ceremony participation and for the first time, we offered customized Journey to Excellence classes to focus on local lodge problems identified by the national committee. Overall, the event continues to be a success, and I am looking forward to where it goes in the future.
Changing the name of conclave was a bold move for Section SR-9. What was the reasoning behind the name change, and what convinced you as Section Chief to lead the effort to have the Heartland Gathering?
Having been an integral part of the section for going on four years in an active role as a youth officer I look for things to improve from the previous year. Entering my third time chairing this premiere event, the section leaders were looking for opportunities to make our event even more "premiere." As we gathered this past year for the annual Section Officers Seminar conversation centered around how great our program elements had become. Our dance and ceremonies showcase the best Arrowmen, shows are incredible, training offers exciting topics, our service lodges perform at the highest caliber, and our quest and admin events are awesome. We, as a section, have created an event that is phenomenal! This event is more deserving than the generic name, conclave, thus our decision to change the name to the Heartland Gathering!
Many Arrowmen have asked the significance of the "Heartland" as part of the new event name. Can you explain why the section chose this word, and what the Heartland means to you?
Our section slogan for as long as I can remember has been "Serving the Southern Heartland." This is because we represent the center of the Southern Region. If you google the definition of heartland you get this, "the central or most important part of a country, area, or field of activity;" or " the part of a region considered essential to the viability and survival of the whole." These definitions could not be a better explanation of why we chose heartland and what this means to me. We as a section, as SR-9, are the Southern Heartland.
Finally, there are over 5,000 brothers in our section, and many of them will not attend a section event. What advice would you like to offer to all Arrowmen within Section SR-9?
My first section event, I was reluctant, nervous, and had no expectations, but, I gave it a shot. I encourage all Arrowmen to do just that. Try it out! Meet the section officers and other Arrowmen from around the section. You will be shocked just how exciting it is! See you at Gathering!